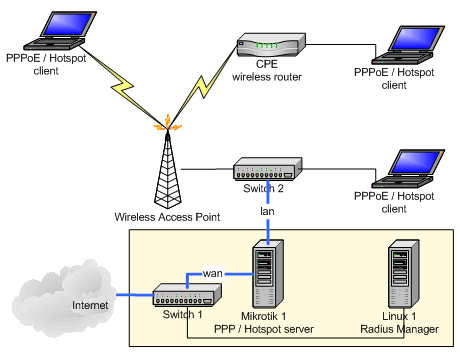 Award winning RADIUS and DOCSIS billing solution
Used in 150 countries worldwide
Web based Adminstration Control Panel and User Control Panel
FreeRadius 2 engine
Available in 17 languages
Multilingual support (UTF-8), customizable design and language
Supporting multiple resellers
Prepaid, postpaid and Hotspot MAC accounts
Professionally looking prepaid and refill cards, integrated card generator
Supporting 7 payment gateways
Mikrotik, Cisco, StarOS, ChilliSpot, pfSense and DD-WRT NAS support
Real-time accounting and billing
Instant access services (purchase PIN codes online)
Self registration and account identity verification (SMS)
Multi protocol support (PPPoE, Hotspot, PPtP, L2tP, DOCSIS)
Data rate control
Special accounting periods (night mode etc).
Special data rates (dynamic throttling, no need to reconnect)
Automatic expired account disconnection
Wireless and DOCSIS signal level monitoring
Burst mode and priority option
Linux mailbox synchronization with disk quotas
Connection Tracking System (IP address, port, user name, time, protocol)
Financial accounting, customizable invoice form
Email and SMS alerts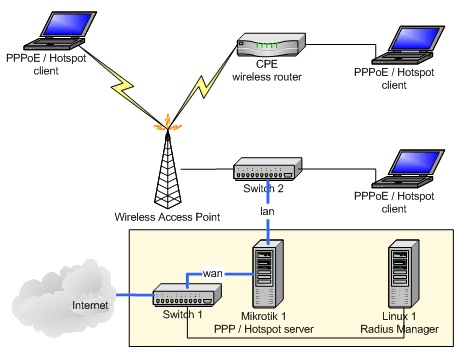 Prepaid card system
With the integrated prepaid card system DMA Radius Manager is capable for generating and controlling classic prepaid and refill cards. The PIN code and password length is freely definable in the card generator module. The system supports the following cards:
Classic prepaid cards: used for Hotspot / PPP authentication. The PIN code and password are printed on the card.
Refill cards: used to refill an account balance, entering the PIN code in UCP.